© Klawe Rzeczy Stefan Meyer, Mick Ryan, Ines Janas, Verena Müller, Martin Maier, Privat,
What makes us "us"? What defines GF? We are a company with a history steeped in tradition and a unique founder who is celebrating an impressive anniversary this year. And what is it that makes us keep raising the bar? Our research on this topic made the following clear: being a pioneer at GF means to burn for a cause, to be courageous and to stay curious. For us, pioneering spirit is more than just a buzzword, it's a passion that permeates every nook and cranny of the company. Discover with us the many facets of our pioneering spirit! We will share this much up front: the topic is magical and has given rise to so many story ideas that it was hard to make a choice.
Now, guess what: the first paragraph was not penned by me. Rather, guided by a pioneering mindset, those words were generated with the help of an artificial intelligence (AI) chatbot called ChatGPT. And that's not the only new thing we have been trying out at Globe. From now on, we're telling the Spotlight story and the intro double page from the point of view of ONE GF, so the focus is now on GF as a whole, rather than on the single divisions.
We are also breaking new ground in our editorial team. No, not with artificial intelligence, but as before, with human wit and skill. Following my exciting interim year for Globe, my colleague Carsten Glose is taking the helm to continue to lead Globe into the future.
I'd like to take this opportunity to send out a big thank you for all the enthusiasm and creativity I have had the pleasure of sharing with you.
Isabel Proske
Globe Project Manager
Embracing GF's pioneering spirit
CEO Andreas Müller talks about the special "culture of empowerment" at GF and the importance of venturing into the unknown with courage and an optimistic mindset.
Read now
Last year, GF launched the Susty Fund, an initiative that encourages employees to get involved in sustainability. You can read about it here.
Read now
Saving nerves, time and money
One photo is all the Mobile Parts Finder needs to identify the spare part you need. Volker Reichmann presents the new app for field service technicians at GF Machining Solutions in Innovator's Insight.
Read now
Time Machine: 1926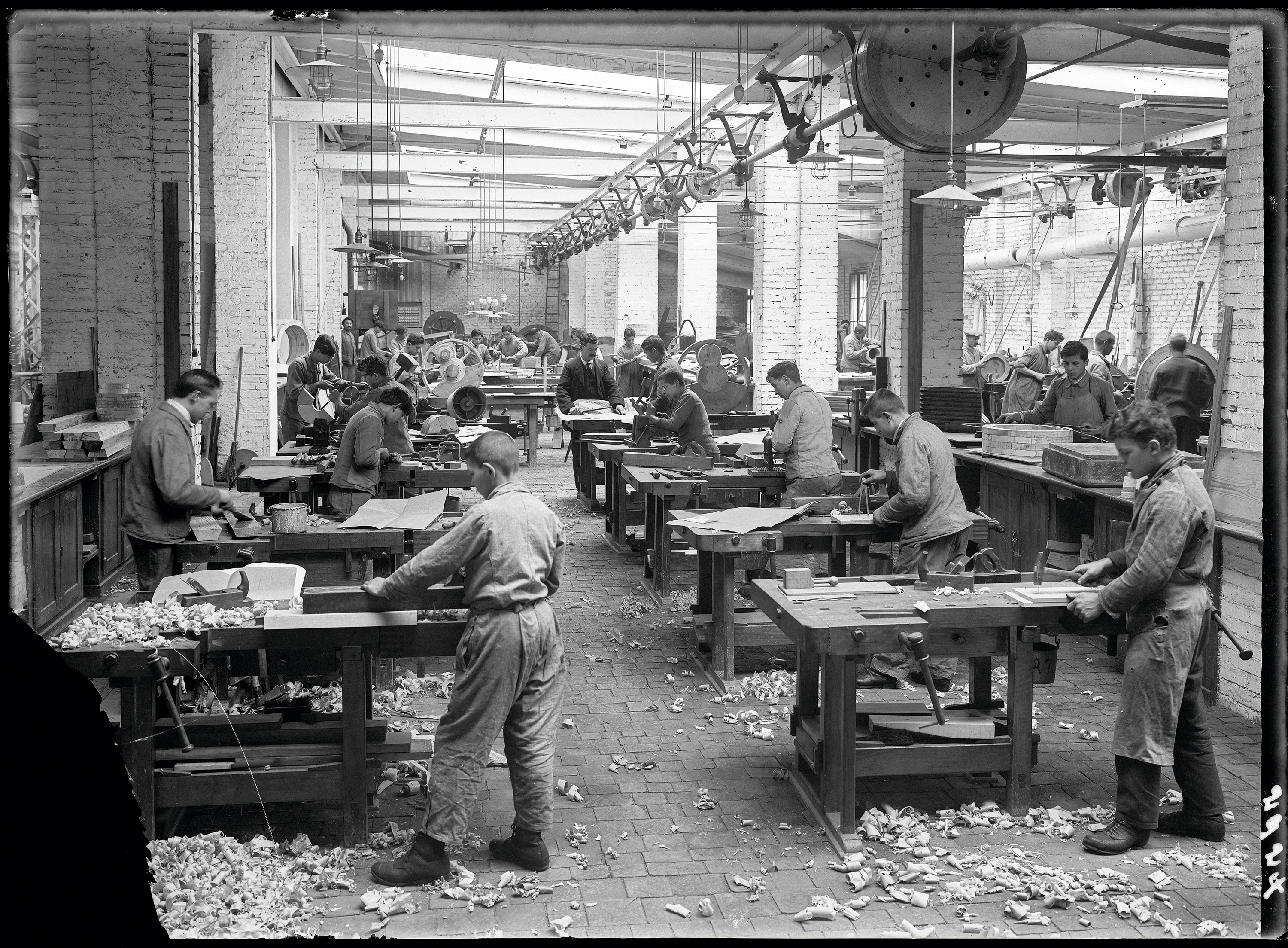 © Eisenbibliothek
Early talent factory
Seemingly unimpressed by the photographer's presence, budding pattern makers go at it at their workbenches. Most apprentices began their fouryear training at GF at around 16 years of age. Our photo shows several cohorts making wooden patterns for cast component molds. Precision was essential and painstakingly checked by the instructor (the gentleman with mustache and tie). GF founded the factory school, which had its own classrooms and workshops, as early as 1918. This was even before the introduction of state-regulated vocational training. In its early days, some 40 apprentices a year were trained in various professions. In the 1950s, the number of trainees rose to an impressive 80.
Location: GF factory school in Schaffhausen (Switzerland)
Training profession: Pattern maker
Foundation of the school: 1918
GF Machining Solutions now has the energy certificates to prove that the newer generations of machines consume less energy than their predecessors. We also reveal the value of maintaining a good connection to customers in this regard, and offer three more facts about the certificates.
Read now
Your Feedback: More entertainment? You got it!
I am an avid Globe reader, but occasionally I yearn for entertaining participatory sections in the magazine. Since I make a habit of reading Globe on the train on the way home, I would like to be entertained in a light way that also includes playful contributions.
Participant in the Winter 2022 Globe reader survey
We're happy to hear you are an ardent Globe fan and even incorporate the magazine into your daily routine.
We are therefore all the more pleased to be able to offer you and all our colleagues an easy and playful introduction to the new issue of Globe with this newly designed double page spread, which you are currently reading (here): It invites you to puzzle, try out recipes and browse – all while keeping our global GF family in mind. Just get started!
Regards, your Globe editorial team
We invite everyone to contact us at any time with entertaining short contributions.
And how about you?
Do you have feedback for Globe, or would you like to ask the Globe editorial team a question? Then send an e-mail to: globe@georgfischer.com