© GF
Fresh water in the desert
Great teamwork turned certain defeat into a winning bid. It set the stage for one of GF Piping Systems' most complex projects ever: a new seawater desalination plant in Egypt.

In January 2020, GF Piping Systems finished one of its most challenging projects ever: a desalination plant near Port Said (Egypt), which will supply 150'000 m3 of fresh water per day to consumers in the new city of New East Port Said, 200 kilometers northeast of Egypt's capital Cairo.

But this great success began with a setback: The first proposal from GF to provide piping for the plant was rejected by general contractor Metito Cementech in mid-summer 2018 – despite previous collaboration. "Metito wanted a partner with a bigger scope of supply – this time including steel structures and surrounding pipework," says Paul Keetley, Regional Sales and Project Manager of GF Piping Systems International. Together with Jürgen Miklo, Group Manager for Custom Product Design and Pre-Fabrication, he mobilized expertise within GF to construct the right solution that could be delivered within the given time limits.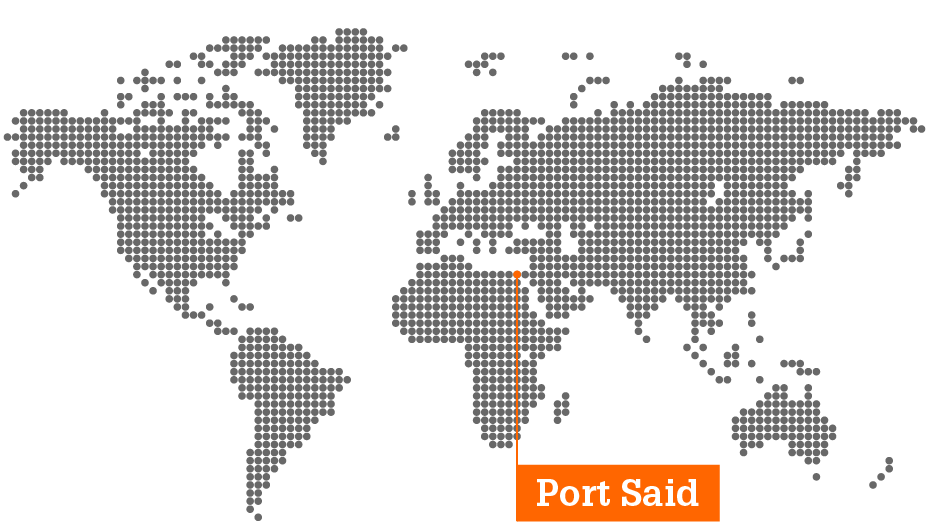 Keetley and Miklo traveled from Schaffhausen (Switzerland) to Cairo (Egypt) in September 2018 to present a new concept with the extended offering to Metito. The new proposal's attention to detail and end-to-end solution elevated GF's proposal to technically preferred, even though it cost more than the competitors' offers. "Our presentation included elements of stress analysis while competitors took this for granted. We also included a concept design in our presentation," Paul Keetley says.
Facts about the Port Said project
The heart of the desalination plant is the Reverse Osmosis process, for which GF designed and produced the headers for the pressure exchangers and permeate collection.

The demand from the customer was to supply everything or nothing – which meant the GF Piping Systems team also had to design, paint and supply steel frames.

6'000 valves were required in the complete project from GF Piping Systems and around 60'000 welds in total. The number of prefabricated joints was more than 30'000.

A total of 94 containers of material were delivered to Port Said; the total steel frame supplied exceeded 300 tonnes.

The biggest pipe supplied was 1.2 meters in diameter and weighed more than 4 tonnes per spool. Thirty of them were delivered by GF.

The manufacturing work started in winter 2018. GF were to provide every part for constructing the piping and supporting structures. "This kind of work is normally beyond our scope and therefore required a lot of coordination with third-party suppliers," explains Keetley. The biggest pipe supplied was 1.2 meters in diameter and weighed more than 4 tonnes per spool. The mechanical stress from the weight and pressure of water and from the structure itself was an additional challenge. Miklo therefore consulted the GF Engineering Services Team to perform a stress analysis prior to detailed design stages and to design the supporting structure for the plastic piping system accordingly. "Within just three months, our team in Schaffhausen constructed, prefabricated and tested a prototype of the first ultrafiltration package," Miklo recalls. Following the successful inspection by the customer, packing and shipment of materials could begin. Some 94 containers with GF products, spread over 19 shipments, were finally delivered to Port Said. In January 2020, just 14 months after the purchase order was placed, the water system was ready for testing. And it worked. "The Port Said project forced everyone to think outside of the box. We gained a lot of experience in managing production and delivery of standard, prefabricated and custom products from different sites, and integrating them into a megaproject like this one in a very limited time." Now we are ready for the next one!," says Keetley.

© Alamy, Getty Images, private
Situated in the new industrial zone of East Port Said in northeast Egypt, the plant was ready for operation in spring 2020. It is one of Egypt's biggest plants of this kind and a key technology sets it apart: ultrafiltration as pre-treatment for the seawater. Water quality from this area of the Mediteranean demanded this innovative technology.
Ultrafiltration technology, as opposed to media filtration used in similar desalination plants in Egypt and around the world, demands a large amount of pipe, fittings, and valves, making this megaproject especially important to secure. In terms of scope, volume of material and complexity, the project eclipses other GF projects in the country and will be a foundation on which to expand further.